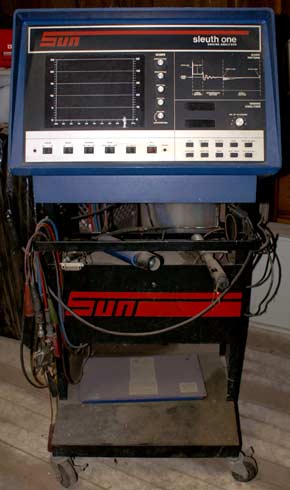 A few years ago, I picked up a Sun Sleuth One (SUN-101) diagnostic unit. This is one of those big rollabout cabinets you'd see in an auto repair shop or smog testing shop. I acquired a smog testing unit with it, but that was so old that it booted from a special cassette tape, so I gate it the heave. The Sleuth One has a scope and two LED numeric display sections. There are several leads. TIMING (which runs to a timing strobe light with an advance/retard dial). AMPS/ALT which runs to a green aligator clip which you connect to the alternator. VOLTS/OHMS which is a red zip cord that runs to a pair of black + red aligator clips, either to test for resistance, or to simply clip to the battery or any other power point you want to measure. PATTERN, which is a blue coaxial cable which has black + red aligator clips on it, plus a thread-on connector to which you can connect an indictive clamp, or a number of other clamps (I have about four types in the tray), including one that snaps on top of HEI amplifier units. And lastly, TRIGGER, which is a red coaxial lead which has the same threaded connector and accepts the same mix of attachments which the PATTERN cable does.
The igntion pickup clips on this are very nice, and at some point, I'll make it a priority to pick up the mating cable-end connectors for them so that I can fashion cable leads to use them on my Fluke scopemeter.
On the front of the unit, there is a dial to select the number of cylinders (2, 3, 4, 5, 6, 8, and 12 - that last one being wonderful to me since I have two V-12 engined automobiles and have always had to set engline tools to 6 cylinders and double or halve the resulting reading), a series of buttons to control what is displayed on the DMM portion (RPM, DIST VOLTS, DC VOLTS, OHMS, POWER BALANCE, DWELL DEGREES, DWELL PERCENT, AMPS, MAGNETIC TIMING), and a button to toggle 2 vs. 4 cycle operation (though I've yet to personally run into a multi cylinder 2-stroke for anything I use - even my two gas weed whackers are 4-stroke). There are additional toggles beneath the scope display, where the ignition spark signal is displayed, and a series of adjustment dials alongside the display.